Fertility preservation in young people before gonadotoxic therapies (for cancer or other diseases) is nowadays one of the most challenging issues in reproductive biology. However, interesting breakthroughs are bringing it closer to reality. As we commented in our last post, Dr. Goossens' group achieved complete spermatogenesis in intratesticular testis tissue xenotransplants from immature non-human primates. This time we would like to highlight the outstanding Science paper from Dr. Orwig's laboratory, from the Magee-Womens Research Institute of the University of Pittsburgh, who went a step further and have recently hit the news introducing Grady, the first healthy autograft-derived rhesus macaque baby.
Unlike adult men, sperm freezing is not a choice for prepubertal boys who are not yet producing mature sperm cells. This means that the only available option to preserve their fertility is the cryopreservation of immature testicular tissue containing spermatogonial stem cells (SSCs). This procedure would be just suitable for cases in which testes don't have cancer metastases, to ensure that no malignant cells are harbored in the grafted tissue. From the range of techniques used up to now to generate fertile sperm from cryopreserved testicular tissue, live offspring was only been achieved after tissue grafting in mice. However, due to the potential risks related to xenografting in the clinical application, the focus is currently placed on autologous grafting. Despite of that, none of the studies in autologous grafting in non-human primates had tested sperm functionality by fertilization or production of offspring. This way, Orwig's group have reported for the first time that, through autologous grafting, frozen and thawed testicular tissues from a cancer survivor model in prepubertal rhesus macaques "were matured to produce sperm that were competent to fertilize rhesus oocytes, establish a pregnancy and produce a healthy graft-derived baby".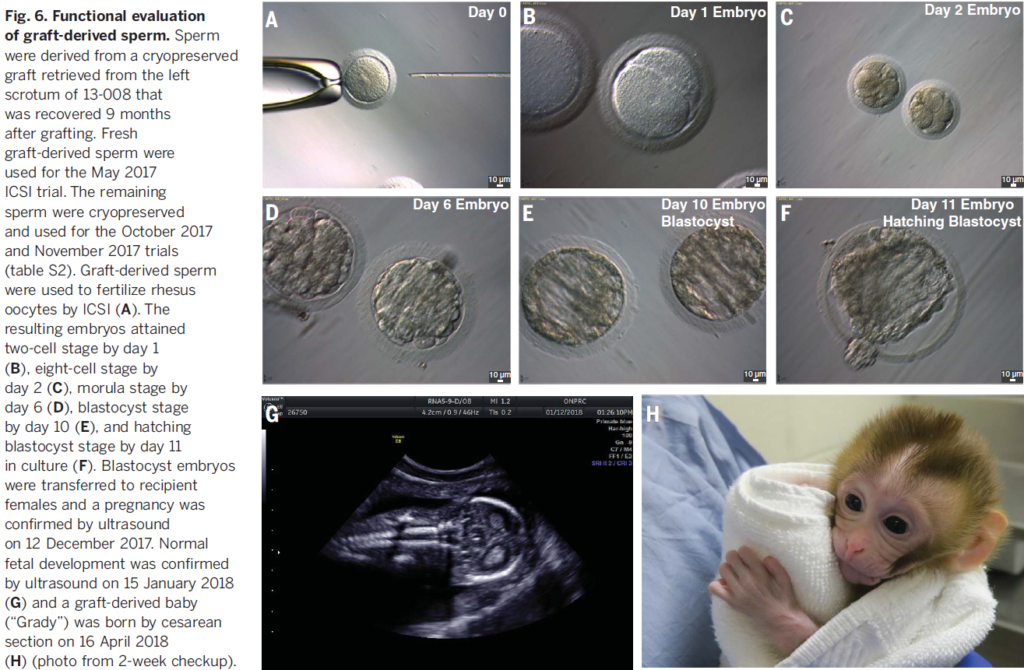 A group of rhesus macaques were hemicastrated and the tissue was cryopreserved. Seven months later, remaining testis were removed and both fresh and cryopreserved tissue were grafted under the back and scrotal skin. After few months of immature tissue grafting, as animals entered puberty, hormone levels indicated a functional hypothalamic-pituitary-testicular axis. Seminiferous tubules exhibited complete spermatogenesis from 8 to 12 months after grafting, showing elongated spermatids and/or sperm in more than 70% of the tubules analyzed. To test sperm functionality, ICSI was performed in the Oregon National Primate Research Center with sperm obtained from cryopreserved grafts that were located under the scrotal skin of a single macaque. Finally, after embryo transference into six recipient females, one pregnancy was confirmed, giving birth in April 2018.
Although further tests are needed in order to ensure cancer-free grafts, the birth of Grady means a huge step towards the initiation of clinical trials for the application of autologous testicular tissue grafting to preserve fertility in prepubertal boys.
We are glad to announce that we will be soon sharing with all of you an interview with Dr. Orwig. Stay tuned to the Tête-a-tête section!
Fayomi et al. "Autologous grafting of cryopreserved prepubertal rhesus testis produces sperm and offspring." Science 363.6433 (2019): 1314-1319.