This time we bring an interview with the leader behind the group that recently published in Science the successful birth of Grady, the first rhesus macaque born after an autologous graft of immature testicular tissue.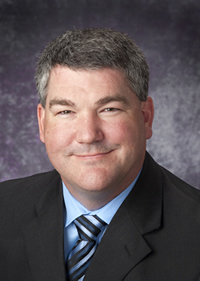 Professor Kyle Orwig obtained his PhD from Oregon State University in 1994. Afterwards, he completed postdoctoral training at the University of Kansas Medical Center and, in 1999, became assistant professor at the University of Pennsylvania. Nowadays, Dr Orwig is a professor and director of research in the Reproductive Endocrinology and Infertility Division at the Obstetrics, Gynecology and Reproductive Sciences from the University of Pittsburg School of Medicine. He is also the director of both the Fertility Preservation Program of Pittsburgh and the Genome Editing, Transgenic and Virus Core Facility, at the Magee-Womens Hospital and the Magee-Womens Research Institute. His research covers several lines related to stem cells, the development of the germ lineage, fertility and infertility, and one of his aims is to apply next generation technologies for the diagnosis, prevention and treatment of infertility. With the publication in Science, Dr Orwig's group has greatly impacted the field of fertility preservation for prepubertal boys undergoing gonadotoxic therapies (check our last Press Highlight for more information).  
Dr Orwig, when and why did you decide to work in the field of reproductive biology?
"I was always interested in the biological sciences. My decision to pursue research in reproductive biology occurred in graduate school at Oregon State University where I obtained my PhDs in Animal Sciences and Biochemistry/Biophysics. The Animal Sciences experiences were particularly instructive as I have always been interested in seeing how biology works in living organisms and in applications of basic science knowledge that improve animal health and production and/or human health."
Your last publication in Science has been the first time offspring is achieved in non-human primates after testicular tissue grafting. This is a breakthrough in the field of fertility preservation. Can you tell us what was your main motivation to lead this project? And what has been the most challenging part?
"To clarify, this is the first time a non-human primate offspring was produced after autologous grafting of immature (no sperm), frozen and thawed testicular tissues. We were motivated by prepubertal cancer patients who are at risk of infertility due to the side effects of chemotherapy or radiation treatments that will be used to treat their cancer. Adult patients have the options to freeze eggs or sperm before they start treatment. Those cells can be thawed in the future to establish pregnancies and produce biological offspring. Those options are not available to childhood cancer patients who are not yet making mature eggs or sperm. Our fertility preservation program in Pittsburgh as well as other centers around the world are freezing ovarian tissues and testicular tissues for young patients because we believe that those tissues can be matured in the future to produce eggs or sperm. Of course, those tissues will have to be maintained in cryostorage for many years or even decades before the patient will return to use their tissues for reproduction. This study provided the proof in principle that sperm and a healthy baby could be produced from frozen and thawed, immature testicular tissues."
Which are your thoughts about how far the application of this technique is to restore fertility in boys made infertile after gonadotoxic treatments?
"Testicular tissue grafting is a mature technology that has been replicated in numerous animal models, including monkeys. I believe the technology is safe and may be ready for testing in the human fertility clinic. I estimate that testicular tissues have been cryopreserved for over 1,000 young patients worldwide, including over 200 patients in Pittsburgh. I believe that we in the medical and research communities are now obligated to responsibly develop next generation technologies that will allow patients to use their tissues in the future to have biological offspring."
This achievement should be one of the greatest successes in your career, could you also share with us a moment of failure and which lesson you learned from it?
"Failure is a constant in science. The successful researchers are the ones who can fail and still come to work the next day with enthusiasm for the next experiments. There are too many failures over the course of my career to list here. However, I hope I have learned from the failures and balanced those failures with some important successes."
Which advice would you give to young researchers?
"Read a lot to become familiar with the history (and people) in your scientific discipline. This helps you to understand the controversies and knowledge gaps that should inspire future studies. Engage in all aspects of academic research (even the boring stuff) because you never know when you will learn something or meet someone that was unexpected and will open doors to new opportunities.
Network!!!"