The 14th international NYRA meeting took place from September 20th to September 21st, 2022, in Norwich, United Kingdom. 31 participants from UK, Croatia, Spain, Denmark, Germany, Netherlands, France, Poland, and Belgium joined this meeting at the University of East Anglia (UEA), which is a part of the Norwich Research Park, one of Europe's biggest communities of researchers in the area of environment, health, and plant science. Here are the main take home messages from the meeting:
Dr Raheleh Rahbari gave an overview of the role of mutations in the male germline, with emphasis on the mechanisms affecting germline ageing and predisposing offspring to disease.
Dr Antoine Molaro's talk was focused on the evolutionary dynamics of genetic conflict in the germline. He discussed the role of short histone H2A variants in spermatogenesis and fertilisation, and argued on their global effect on post-meiotic genome packaging.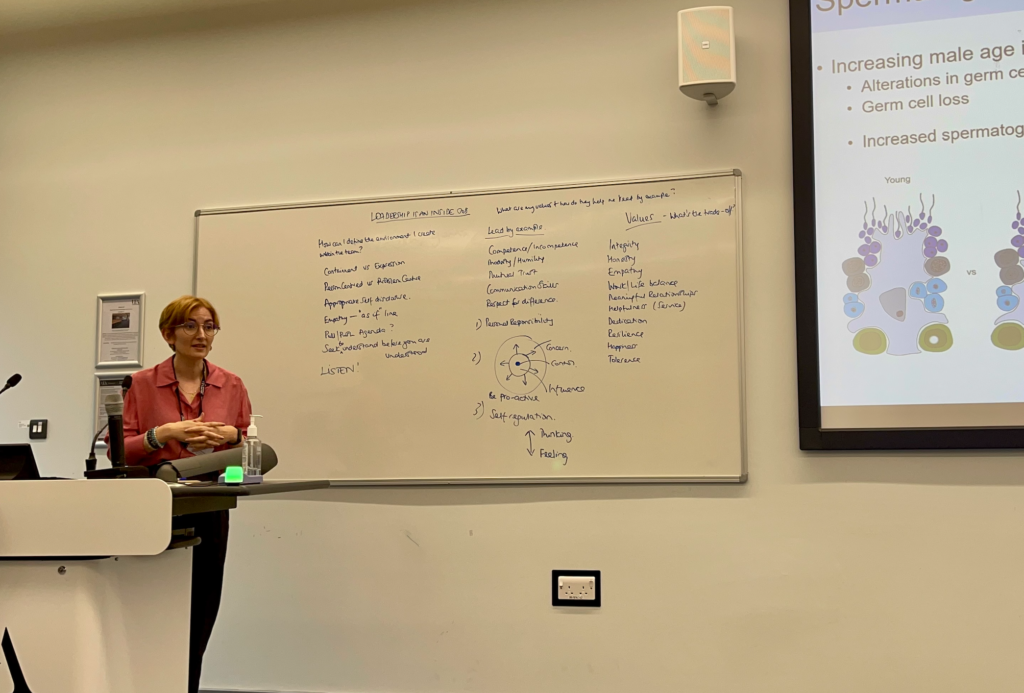 Dr Sandra Laurentino gave an overview of the general reproductive changes in healthy ageing men, with a focus on the spermatogenic epigenetic modifications. Sandra argued that most epigenetic information in sperm are stored as DNA methylation and advanced paternal age alters these marks impacting fertility and potentially offspring fitness.
Professor Rod Mitchell focused on the understanding of human testis function in relation to fertility preservation in his talk: "Fertility preservation in childhood cancer: Let's hear it for the boys!". Rod updated us on the screening of FDA- approved drugs that protect germ cells before gonadotoxic treatments and their validation in human testicular organ culture.
Dr Kristian Almstrup highlighted the different classes of piRNAs in the male germline, then showcased the latest genes found to be involved in the production of piRNAs during spermatogenesis and discussed their effects on human fertility.
The final part of our programme consisted of two workshops. In the first workshop, Andrea Rippon (Stronger Relationships, UK) delivered an interactive session on leadership. Through practical activities and small group discussions, the delegates explored personal competencies (intrapersonal skills) and social competencies (interpersonal skills) within the context of leading themselves and others. The second workshop was led by Professor Simone Immler (University of East Anglia, UK). Simone provided useful insights into "how to navigate the ever-changing maze of careers in science". Based on her personal successes and failures, Simone provided an overview of the best strategies to find fellowships and write successful grant applications.
Finally, this year's NYRA award has been awarded to Dr Sandra Laurentino. The NYRA award is the highest award of NYRA, and it is presented to an emerging group leader who has mentored fellow young researchers, demonstrated scientific independence and made an outstanding contribution to the field of andrology. Sandra has made an outstanding contribution to andrology and is particularly well known for her contributions to the areas of sex steroid receptors, epigenetics and novel tools to study Klinefelter Syndrome (46,XXY) testes.
The NYRA board would like to thank all of our invited speakers and participants for attending this meeting! Also, we would like to thank our sponsors; the 14th NYRA meeting was made possible thanks to support from the European Academy of Andrology, International Society of Andrology, Society for Reproduction and Fertility, MS Reproduction, The Company of Biologists and Male Contraceptive Initiative. We look forward to seeing you all in our next meeting on June 17th-18th, 2023 in Switzerland!