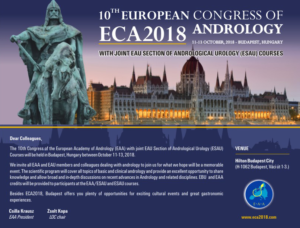 http://eca2018.com/welcome.htm
Dear Colleagues,
The 10th Congress of the European Academy of Andrology (EAA) will be held in Budapest, Hungary between October 11-13, 2018. We invite all EAA members and colleagues dealing with andrology to join us for what we hope will be a memorable event. The scientific program will cover all topics of basic and clinical andrology and provide an excellent opportunity to share knowledge and allow broad and in-depth discussions on recent advances in Andrology and related disciplines.
As in previous ECA meetings, delegates will have ample opportunity to renew old friendships and make new ones and to take part in social programmes.
Budapest is one of the most popular touristic destinations. As one of Europe's great cultural cities Budapest offers plenty of oportunities for cultural events and great gastronomic experiences.
We look forward to welcoming you in Budapest at ECA2018 and hope that you will make a special note of these dates in your agenda.

Csilla Krausz
Zsolt Kopa